Welcome to the Official Site for Maddie and Katie Chieco. You may recognize Maddie from her shoots for FAO Schwarz and Katie from her work for comapnies including McCall's Patterns and Toys R Us. Here you will find all the news and up to date information about these talented young models. For Industry Professionals looking to learn more about Maddie and Katie, please click on their names above for an overview of information.


NEWS & UPDATES
14 Mar 2016
Boscov's
Katie always loves shooting for
Boscov's
and last year she appeared in several
circulars
for the company in the early fall. Showing off a variety of outfits, she was very happy to open the paper to see if she was in the ad, and which of her friends she would be spotted alongside. When it was time for back to school the company released a catalog and Katie made the cover! It was a lot of fun for her to shoot that particular ad as it was on location and made her even more excited about the first day of school coming up.
In the late fall Katie had a second set of images make it into the
circular
featuring apparel a little more fit for the upcoming cold and snowy weather. She appeared in a few more ads with these photos and don't you just want that purple "Star" activewear set? What a lot of fun working for this
fantastic
company and Katie really hopes to get to work with them again this year!
Posted by: Lisa
03 Mar 2016
Snapshot
It's always exciting heading to an audition, you never know what the day will bring, what they will have you do, and who you will run into. While in the city the other day Katie was very happy to run into one of her fellow
CP Talent
friends
Anthony
at her audition! It's always great to catch up with those with the same rep as you, you are all kind of like a family under your management, and Katie and Anthony couldn't wait to pose for a picture together to send to their manager to say hello and tell her that they got to meet up. The image can now be found in the gallery, make sure to check it out!
Posted by: Lisa
04 Feb 2016
Mercedes
Last year Katie had a fantastic time on set for a
Mercedes
commercial! Entitled
"Smart Kids"
it was for
Mercedes Benz Vertrieb Duestchland
and the best part of the day was that she got to work with friends. She loved making a few new ones on set, it's great having other kids to play with on a busy shoot day, but she especially loved getting to spend time with her
CP Talent
friend
Aaralyn
. The two spent a lot of time together off set, having snacks, playing games, and behind the scenes images from the shoot have just been added to the gallery!
Posted by: Lisa
25 Dec 2015
Merry Christmas!
It's the most wonderful time of the year and Maddie and Katie have been enjoying their holidays so far. Now the
big day
is here and they are balls of energy enjoying their Christmas with their family. Presents, dinner, traditions, there's so much going on today, and they cannot wait to enjoy every minute of it. They would like to wish everyone celebrating a
Merry Christmas
, and hopefully all of you are having a
wonderful
holiday season!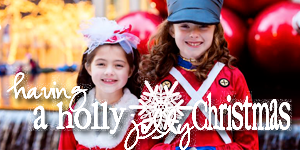 Posted by: Lisa
20 Dec 2015
Stacy Gallizzi Photography
It is always a fun day when getting to shoot with
Stacy Gallizzi
and this time around Maddie and Katie took to the streets of
New York City
for a holiday shoot! Wearing their Christmas outfits they visited some of the popular destinations during this time of year posing in front of the decorations and iconic buildings such as
Radio City Music Hall
. They had lots of heads turning wherever they went as everyone stopped to admire their outfits and see what they were doing, and the girls loved every minute of it. The images came out
fabulously
, and what a keepsake to have throughout the years, thank-you Stacy for all of the wonderful new Christmas photos!
Posted by: Lisa
<< Previous 1 2 3 4 5 6 7 Next >>